Aphrodite,
the Greek goddess of love, beauty, and sexuality, is beautifully portrayed here within this cold cast resin statue. Later being known as the Roman Venus, the Greek goddess Aphrodite has been known by many names throughout history, including Cythera and Cypris, and is said to have been imported to Greece with the cultural influence of the Phoenicians, possibly having originated within their cult of Astarte. In Greek legend she was the lover of Ares and the wife of Hephaestus, and is perhaps most known for the legend of Eros and Psyche, as well as that of Adonis. Here she is portrayed as though cast of bronze, and seeming as though she could easily be a classical statue. With a flowing cloth hanging from her arms and pooled by her feet, she is all but nude, with her posture and expression perfectly suiting a goddess of love and beauty - a grace further accented by the doves (a frequent symbol of the goddess) which are cradled within her hands and in flight about her form. Made of cold cast resin and styled so as to appear to be bronze, the statue measures approximately 11 1/2" in height.
Hera
is the queen and sister to Zeus, making her one of the more prominent Goddesses of the entire Greek Pantheon, often appearing within Greek Legends and myths. Known primarily as a goddess of women and marriage, she was known frequently to lash out at her adulterous husband, and was quite jealous and vengeful. She was also quite known for taking vengeance on the slights of mortals who offended her. Hera is also one of the eldest Gods of the Greek pantheon, appearing in Homeric legend as the eldest of Cronus`s daughters, and she is even believed to predate most Greek folklore, appearing to have been an adaptation of a more primal, Minoan mother Goddess. Her motherly protection and womanly wrath are thusly well founded in history, marking her as one of the most ancient Goddess of hearth, family, and women. This statue, crafted of cold cast resin and hand painted so as to appear to be bronze, has been carefully detailed to portray Hera with these traits. With an almost youthful demeanor, her motherly wisdom is portrayed in the lines of her face, while her body portrays sinewy vigor and self-assured authority. Wrapped in gossamer robes, she seems to be striding beside the beautifully plumed peacock, which is one of her chief symbols from the legends of ancient Greece. Perfect for your altar, or as a decoration in your home, the entire statue measures approximately 9 1/2" tall and 7" wide.
Pan Dancing With Nymphs.
Pan is widely regarded as a carefree god of nature. He is a god of Shepherds and flocks, and of mountain wilds, hunting and rustic music. Indeed the piped musical instrument with which he is so scene depicted has become known simply as "Pan pipes." More commonly though, he is perhaps known for his love of Nymphs and women, and was frequently spoken of as chasing them, as they frequently fled his advances. Fields, groves, and wooded glens are all considered his places, and because of this he is frequently revered as a god of fertility, and the season of spring. Interestingly, he is frequently depicted as a Satyr; a man with goat legs and feet and the upper body of a man. He also possesses the horns and ears of a goat, and is frequently depicted as bearded, with wavy or curly hair in a fashion common to the ancient Greeks. Because of this, many people regard him as the origin of the Horned God and many other such figures of faith, including some Christian imagery. In this delightful statue he is shown in traditional form, with the lower body of a goat and the upper body of a man, struggling at his "play" with two nude nymphs, both of whom are portrayed within the traditional Greek images of feminine beauty. Tugging at his arms and, the Nymphs seem to laugh and play as Pan digs in his hoofed feet, struggling to keep from going where they tug with a wild expression of dismay upon his face. Indeed it seems one of Pan`s tricks has turned back upon him here, creating another legend of the playful antics of the lively Greek God. The whole merry scene has been immortalized in cold cast resin, and hand painted so as to appear to be crafted of bronze. Heavy-weight and classically styled, it is the perfect piece for your altar, desk, bookshelf or where ever else in your home you might want to celebrate this beloved nature God.
Approx. 7 1/2" tall X 7" wide.
Pan With His Pipes.
Pan, in Greek religion and mythology, is the companion of the nymphs, god of shepherds and flocks, of mountain wilds, hunting and rustic music. He has the hindquarters, legs, and horns of a goat, in the same manner as a faun. With his homeland in rustic Arcadia, he is recognized as the god of fields, groves, and wooded glens; because of this, Pan is connected to fertility and the season of spring. Here he is shown here in classical form, as a celebration of his wild wisdom and carefree music. Measuring 9 3/4 inches tall, 4 1/4 inches wide and 4 1/2 inches deep and sculpted of cold cast resin, he is hand painted so as to appear to be fashioned of bronze, creating a feel of elegance and sophisticated art even as it clearly illustrates every detail exquisitely, from the horns sprouting from his curly mop of hair to the fur upon his goat-like legs.
Artemis,
the goddess of forests, virginity and the hunt, was one of the most widely revered goddesses of ancient Greece, and was often regarded as the beautiful daughter of Zeus and Leto, and the twin sister to the famed god Apollo. Indeed, she was even said to have been born first, before immediately aiding her mother in the birth of Apollo, and for this reason she is often viewed as a goddess of fertility and childbirth.Often depicted with a bow and arrows, she is also viewed as a fearsome woman, who was said to have often punished or slain those who offended her or forgot to make offerings to her at the proper times. This is how she is shown in this wonderful statue; a lithe young woman, with bow drawn back and arrow knocked, she is a goddess of the hunt with a wolf representing this ferocity, howling by her feet. From her head sprouts a mantle of stag horns, representative of the animal which was sacred to her, while her feet seem to rest upon the surface of the moon; a symbol that was sacred to the virginal goddess. Made of cold cast resin, the statue stands approximately 11 1/2" tall and 7" wide, and is made fantastically painted so as to appear to be sculpted of bronze.
Hermes,
the great messenger of Greek mythology, is a god who is spoken of in a great many legends and myths. Known for the winged sandals that helped him fly, and swiftly carry the messenges of the Gods, Hermes is the god of travelers, those who cross boundaries, as well as shepherds and herdsmen. His cunning and wit also left him viewed as a patron of those who made a living with their charisma and words, even as his trickery left him a patron of thieves and liars. Here he is depicted in a cold-cast resin statue, sculpted with exquisite attention to every detail and hand painted so as to appear to be crafted of bronze. With his winged sandals leaving up a cloud of dust as he flies, and his short robe billowing about his waist, he appears intent upon his travels as he gazes down upon the mortals below; perhaps on some mission of urgency to the Gods of Olympus. Measuring in at approximately 9 1/4" high, 7 1/2" wide, and 4 1/2" deep, this statue will easily fit upon most altars for your veneration and can be set upon your shelf or desk to decorate your home.
Dionysus,
the Greek god of wine and plenty, Dionysus is often viewed as a deity of hedonism and ecstasy, he was also quite popular among the Romans, who knew him as Bacchus. He was also the patron deity of agriculture and theater, and was known as well to be a god capable of liberating one from your normal self, by either madness, ecstasy or wine. With these attributes, it was also his divine mission to bring an end to worry and care. Understandably, Dionysus is a God who came to be quite favored, helping ease the burdens of worry in those whom he favors. Here he is shown as he is traditionally spoken of; a beautiful man, with feminine facial features and luxurious hair, robed in the Greek fashion. Entwined with his curly hair, grape vines adorn him like jewelry, even as he raises them to his lip. In his other hand he drags an amphora, heedless of the wine it spills to the ground by his feet; for Dionysus, there is always another jug of wine. All of this is sculpted beautifully of cold cast resin with painful attention to detail, showing the contour of his form and every fold in his robe, all cast in a fashion so as to look and feel as though it is made of bronze, making it the perfect piece for your altar. This statue stands approximately 10 3/4"high, 4 1/2" wide and 4 1/2" deep.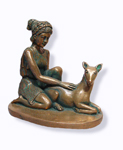 Young Artemis Diana
Arcadian Protector of Children and Animals. This lovely new image of Artemis as a girl reveals her sweet, innocent side as she crouches to soothe a fawn with a gentle hand. She inspires us to love and protect the sacred purity of childhood and nature. 3 3/4" by 3 3/4" cold cast bronze statue.