We do not ship. This website is for the customers who shop in our brick and mortar store in Terre Haute, IN.
We are constantly adding new products and have many additional unique items that are not listed on this website.
If you have never visited our shop or haven't visited in a while, come in and browse, you will find it's worth the trip.
Whether you need a Altar Cloth, Chalices, Athames, Bells, Tiles, Offering Bowls, Candles & Holders, God/Goddess Statues, Incense, Crystals or Herbs,
Herbs and Heirlooms has the areas largest selection of Altar supplies in stock for your rituals.

Below is a Small Sampling of the Items Available at Herbs and Heirlooms.
Altar Cloths
Altar Tiles
Altar Bells
Tibetan Chakra Bells
Chalices
Athames
Lord and Goddess Statues
Candles and Candle Holders
Crystal Journey Candles




Herbs and Heirlooms stocks the complete Line of Crystal Journey's Herbal Magic Reiki Pillars and Glass Votive Candles.

Aloha Bay Chakra Energy Pillars




Herbs and Heirlooms stocks the complete Line of Aloha Bay Chakra Energy.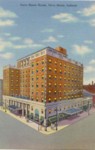 The Terre Haute House was opened in 1928 and closed in 1970.
It was demolished in 2005.
It was located at the crossroads of America on the northeast corner of 7th & Wabash Ave. This is where Highway 40 & Highway 41 crossed.