Alvita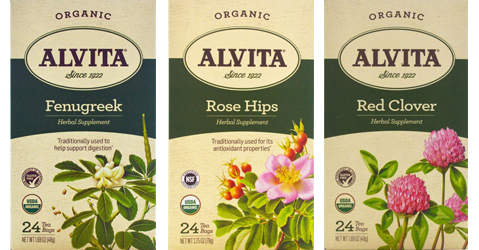 For more than 75 years, Alvita has been producing health-giving herbal teas that combines ancient herbal wisdom with modern science. Teabags are oxygen bleached, not chlorine treated. No strings, tags or staples. Alvita brings to you all the richness and benefits of herbal teas.
Celebration Herbals Tea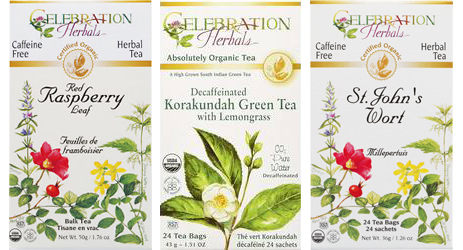 Celebration Herbals is dedicated to bringing you the best tasting teas, grown and processed as close to the way nature intended" as possible and never irradiated.Teabags are oxygen bleached, not chlorine treated. No strings, tags or staples
Earth Mama Angel Baby Teas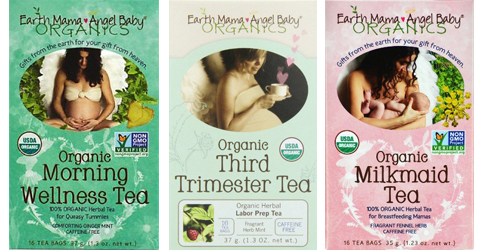 Earth Mama believes in the natural process of birth, and the healing power of nature. Our mission and promise is to provide safe, herbal alternatives for pregnant, postpartum and breastfeeding women and if it doesn't measure up to Mama's standards, (a real person), it doesn't leave the building.. Safe, hospital recommended, organic and natural herbal products and USDA Certified 100% Organic teas are specifically formulated to support the entire journey of childbirth, from Pregnancy through Postpartum Recovery, Breastfeeding and Baby Care.
Health King Chinese Herb Teas
High quality authentic traditional Chinese formulas, mostly made of wild herbs, safe and effective. Taste great for both hot and iced-tea. Health King Medicinal Teas are parve in quality, containing no animal parts and manufactured in parve environment.
Herbs and Heirlooms Tea
Our black, green and white teas and tisanes (herbal teas) are of the highest quality and sourced from all over the world. Most are certified organic or ethically wildcrafted and some are kosher certified. These teas are available as loose leaf tea and/or teabags.
Following is a partial list of the teas currently in stock.
Black teas:
Darjeeling, Earl Grey, English Breakfast, Irish Breakfast, Lychee, Nilgiri and Pu-erh.
Black flavored teas:
Black Currant, Blackberry, Chai, Cinnamon Spice, Orange Spice, Peach and Summer Fruit.
Green teas:
Assam, Bancha, Chun Mee, Genmaicha, Gunpowder, Jasmine, Matcha, Oolong, Sencha and Young Hysson.
Herbal teas (tisanes):
Chamomile, Ginger, Hibiscus, Holy Basil (Tulsi), Honeybush, Nettle, Pau d' Arco, Peppermint, Rooibos, Srenna, Spearmint and Saffron.
We have seasonal blends such as Summer Solstice and Winter Solstice. Also available at Herbs and Heirlooms is a large selection of herbs for making your own custom blend according to your recipe.
Stash Tea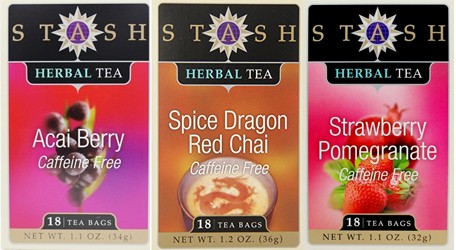 Since 1972, Stash has been dedicated to providing premium quality teas. Stash begins with tea leaves from the world's premium tea gardens and the finest herbs and spices gathered from around the globe. Our master blenders combine these ingredients to create unique and delicious teas that are natural and free of artificial flavors and colors.
Traditional Medicinals Teas
Traditional Medicinals Herb Tea Co. was one of the first companies in this country to market herbal tea remedies. Over the past two decades, Traditional has developed a line of safe herbal remedies which may be purchased "over the counter" without a prescription. The individually wrapped tea bags provide safe, effective, good tasting alternatives to stronger drugs, allowing consumers to make healthy and convenient decisions about medical self care.
Tulsi Tea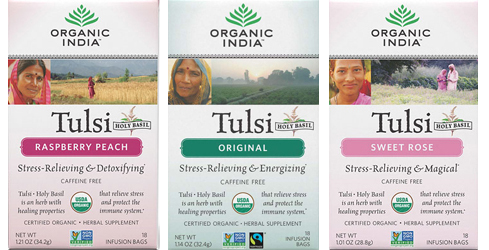 Tulsi, also called Holy Basil, is revered throughout India as a sacred herb infused with healing power and is considered to be the "Queen of Herbs." Abundant in antioxidants, certified organic Tulsi Tea is not only great tasting; it offers stress relief, increased energy and a boost to your natural immune system. Enjoy!
Yogi Tea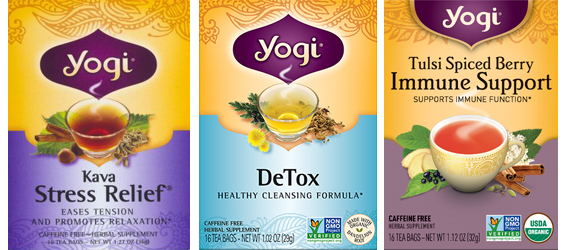 In ancient India, Yogis developed a sophisticated herbal healing system, using Eastern philosophy and practice to address the subtle connection of body, mind and spirit. This is the wisdom that Yogi Bhajan brought to the West in 1969 and used to create Yogi Tea. Yogi Tea is committed to honoring the gift of this legacy, creating delicious herbal remedies to help you down the path of harmony, balance and health.
Yogi teas combine ancient knowledge with modern science, using ingredients that are certified organic and not genetically modified, sourcing organic herbs and spices from small farms, and tracking each ingredient from seed to cup to produce healing formulas to serve you: body, mind and spirit.