HERBS & HEIRLOOMS, INC.
1709 So. 4th St. Terre Haute, IN 47802
Serving The Wabash Valley From
Terre Haute, Indiana Since 1994
Sandblasting
Sandblasting is the act of propelling very fine particles of an abrasive material
at high velocity toward a surface in order to decorate or engrave it.
This is a sampling of some of the items that Ken has sandblasted here at Herbs and Heirlooms.
Some items are one of a kind, others are stock items.
Be sure and checkout Ken's work the next time you visit us.
Thursday and Friday 10 AM to 5 PM, Saturday 10 AM to 4 PM Indiana time.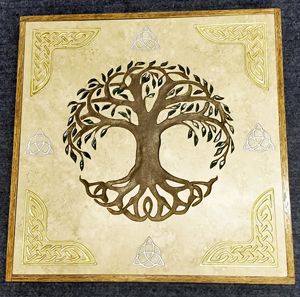 Indiana Sandstone

The dark color in some of the stones is due to iron ore.
Sandblasted Semi-Precious Crystals
Sandblasted Tiles

Porcelain, Ceramic, Slate, & Marble Are Some of The Tiles I Use.
Sandblasted Glass
Sandblasted Repurposed Items
Sandblasted Coffee Cups
Sandblasted Mirrors
Sandblasted Backlit Mirror Boxes