HERBS & HEIRLOOMS, INC.

1709 So. 4th St. Terre Haute, IN 47802




Serving The Wabash Valley From

Terre Haute, Indiana Since 1994
At this time we are not open to the public.
We offer contactless pick-up or shipping option.

For contactless pickup at our store, please call 812-234-2272 with your order (Credit/Debit Card Required)

**Wednesday, Thursday, Friday & Saturday 10AM to 5PM.**

or E-mail your order including your phone number anytime to: herbsandheirlooms@yahoo.com
and we will reply as soon as possible with payment and pick-up instructions.

If you want your order shipped, please use the "Add to Cart" or "Buy it Now" buttons. Shipping charges will apply.

With a few exceptions, most orders ship for a flat fee of $9.95.
Glass Carboys, Better Bottles & Accessories
We do not ship glass carboys. Pickup only.
Glass Carboys

Lids or Bungs are not included.

One-Half Gallon Clear Glass




$5.50 ea.

One-Half Gallon

Amber Glass




$6.50 ea.



One Gallon Clear Glass


$9.95 ea.

5 Gallon

Clear Glass




$49.95 ea.

6 Gallon Clear Glass


$59.95 ea.

6.5 Gallon Clear Glass


$63.95 ea.
Carboy Accessories




3 Gallon, 5 Gallon & 6 Gallon Carboys




$6.95





6 1/2 Gallon Carboy




$6.95





Fits 3 to 6.5 Gallon Carboys




$16.95





For 3 - 5 - 6 Gallon Carboys




$3.95





For 6 1/2 Gallon Carboys




$3.95





Perfect For Cleaning The Shoulder of the Bottle.

$4.95





Perfect for cleaning the bottom & sides of the carboy as well as the shoulder.




$9.95





Heavy Duty Plastic Wedge That Tilts Carboy Allowing Easier Siphoning.




Colors Vary. $3.95





40 cents each





85 cents each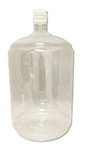 Vintage Shop PET Carboys

Available in 3 Sizes
There is no need to lug around heavy glass carboys any longer! The Vintage Shop's Plastic Carboys are made from 100% Virgin PET plastic, making them lighter than glass. They are impermeable to oxygen, which improves the quality & fermentation of your beer & wine! Able to withstand 15 psi of pressure, they are safer than glass & highly durable. The punt base allows for ease of carrying & pouring with minimal sediment movement, while the extra head space facilitates thermal expansion during fermentation. With no ribs on the sides to collect yeast, cleaning & sanitizing is much easier.
PET Carboy Accessories
Stoppers for 3 - 5 - 6 Gallon Pet Carboys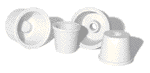 Vintage postcard of the Vigo County Fairgounds, located on the west side of Highway 41 approx. 1/2 mile south of Interstate 70. The oval track seen in the center of the postcard, nicknamed the "Terre Haute Action Track", is famous for harness racing in the past and auto racing today. Many of the well known drivers have raced on this track. This aerial photo was taken looking southwest. The green to the lower left of the postcard at that time is The Paul Cox Airfield. The brown area running in a diaganal back northeast is one of the runways where I believe the pilot taking this photo took off from. Although the fairground still exist, both sides of the highway and the fairgrounds are wall-to-wall strip malls, restaurants, banks, car dealers, etc.