Winexpert Wine Kits, Wine Yeast
"State of the Art" Wine Kits

Using "state of the art" aseptic, nitrogen purged packaging methods, premium wine concentrates are balanced and blended with invert sugar; therefore, no acid titration is required.
All necessary ingredients are supplied. In our opinion, this is the only way to make consistent, top quality grape wines at home.
Winexpert Vintners Reserve Wine Kits



Easy to make and easy to enjoy, Vintners Reserve is the industry's first 28-day winemaking kit, contains 100% pure varietal grape juice and concentrate. This 10 litre wine kit continues to set the standard in its category by yielding wines of excellent quality, flavour and aroma. Vintners Reserve offers a wide range of varieties that allows the winemaker to experience numerous styles and tastes.

All of the acids, ph, sugars, and tannin levels are perfectly balanced, yielding wines of great character, with superior color, flavor and aroma.
White Wines
Vintners Reserve Mezza Luna White
Like its Selection counterpart Luna Bianca, Mezza Luna ("Half Moon") is Vintners Reserve's great white - full, round and flavourful, with big fruit flavours and aromas. The oak provides a subtle yet noticeable balance to the fruit intensity. Big, lush and golden, Mezza Luna gives you body and complexity within the 28-day kit category.
Vintners Reserve Piesporter
Named after the village in Germany's Mosel wine region, world-renowned for its high quality wines. Characterized by a vivid fruitiness and lively balancing acidity.
Red Wines
Vintners Reserve Diablo Rojo
Dark purple in color with a nose of blackberry jam melded with creamy vanilla aromas and a touch of tobacco. Rich in the mouth, it has gently smooth tannins and ripe plum and berry flavors - very much in the character of an off-dry Merlot. The finish is long and fruit-filled, with the perfect amount of toasty oak. While it will improve with ageing, this wine is perfect for enjoying right away, delicious with robust foods and excellent all on its own.
Vintners Reserve Merlot
Characteristically deep in colour with black cherry and berry aromas. The full fruit intensity of this wine has made it an increasingly popular varietal worldwide. Perfect with lamb, red meats and spicy tomato sauce dishes
Vintners Reserve Mezza Luna Red
Vintners Reserve's 'big red' wine offering. Rich and flavourful, this purposeful blend marries intense aromas with complex flavours bursting of cherry and raspberry. Boasts dark red colours and a superb oak enhancement. Delightful complexity within a 28-day category wine, Mezza Luna is a powerful and lively red wine to serve with hearty meals.
Vintners Reserve White Zinfandel
This uniquely Californian treat is a pleasure to savour fully chilled, literally bursting with sweet plum flavours and a refreshing, flavourful finish.
Winexpert Vintners Reserve World Vineyard Collection
Wines from Australia, California, South America and Europe are represented in the Vintners Reserve World Vineyard Collection. These wines are perfect if you enjoy versatile wines which don't require extended aging but still offer distinct flavours from some of the great wine regions in the world.
These 10 liter wine kits produce high quality wines that you can enjoy within one month after bottling.
White Wines
World Vineyard Australian Chardonnay
Supple and slightly buttery, this wine lingers on the palate with layers of toast and spice. Extremely versatile with foods, this is the 'red wine' of white wines, combining beautifully with grilled pork, chicken, fish, salads and cream-based pasta sauces.
World Vineyard California Moscato
With succulent peach and juicy tropical fruit flavors, this sweet white wine is one of our best sellers.
World Vineyard Italian Pinot Grigio
The Italians have their own way with the Pinot Gris grape variety, and in the process they create a special magic with it that's unmatched elsewhere in the wine world. Though dry in character and with a pleasant zip of acidity, this Pinot Grigio shows off a pleasant floral fragrance and tremendous fruit flavours, making it the perfect picnic accompaniment.
World Vineyard Washington Riesling
A distinctive floral and green apple aroma mixed with mineral elements from its Washington vineyard, giving it a brisk, "racy" quality. Its high natural level of acidity enables it to balance a hint of residual sugar, setting off aromas of rose petal, apple, pear, peach and apricot and leading to a grand crisp finish of flinty mineral notes
Red Wines
World Vineyard Australian Shiraz
Australia's route to fame on the world wine stage, Shiraz from Down Under offers lush berry aromas that beg for a hearty whiff. A wine of ripe fullness, its concentrated blackberry fruits and fragrant spiciness are a delight on the tongue. It has the uncanny quality of allowing early consumption despite its complexity and 'bigness'. Robust and lively, Australian Shiraz is a savoury treat.
World Vineyard California Pinot Noir
An intense ripe grape and black cherry aroma, accented by a spicy suggestion of cinnamon and mint. Medium-bodied and rich but not heavy, it's perfectly balanced with alcohol acid and tannin working harmoniously with substantial flavor despite its delicacy. It has an appealing soft, velvety texture like liquid silk gently caressing the palate.
World Vineyard Chilean Malbec
The hot dry climate allows the grapes to reach excellent ripeness, and lush fruity characters, making an intense, black wine. A thick-skinned grape full of colour, tannin and flavour, Malbec makes wines of great power and character, with blackberry, plums, tar, red pepper, sweet cherry, spice, licorice and deep bittersweet notes, almost like unsweetened chocolate, or espresso.
World Vineyard French Cabernet Sauvignon
All the classic associations with this well-known grape variety used in France's brilliant red wine blends are here in this Cabernet brought in directly from France: rich, intense aromas, deep berry fruits, healthy tannins, and a smooth, lingering finish. With the proper tannin astringency and premium French oak evident throughout, this is an elegant wine offering body and complexity when aged.
World Vineyard Italian Nebbiola (Formerly Barolo)
Medium in body with a luminous dark cherry color. This wine has rich, spicy fruit and finishes with chewy, deep and long-lasting flavor. Not for the faint of heart, Nebbiola is for those seeking intensity and complexity.
World Vineyard Italian Sangiovese
The lively fruit and good acidity make it one of the most food-friendly of all reds, pairing well with pasta, veal Parmigiana, intensely flavoured cheeses, and fruits like cherries, figs, plums and raspberries.
World Vineyard Spanish Tempranillo
Gorgeous ruby red in color, this medium-bodied wine is Spain's answer to Cabernet Sauvignon, with berry, plum and herbal notes running to a lush finish of tobacco, leather and vanilla.
Winexpert Island Mist Fruit Flavored Wine Kit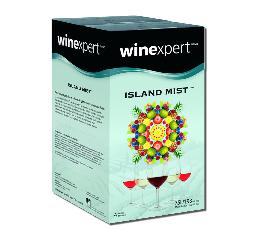 Island Mist
is a unique and appealing new beverage from
Winexpert
that will change the way you drink wine! We've added a splash of natural fruit flavours to selected premium varietal wines for a light alcohol beverage that is a delightful alternative to table wines.
Island Mistcombines the crisp freshness of varietal table wines with the luscious flavours of natural fruit for a thirst-quenching, delicious drink that's unlike anything else you've ever tasted!
Ready to bottle in 4 weeks
These 7.5 liter wine kits makes 6 gallons which equals 30 - 750 ml bottles.
Black Raspberry Merlot
Ruby red in colour, this flavourful blend accentuates the qualities that make the Merlot grape varietal so appealing. The aroma and flavours of freshly picked, ripe raspberries merge with the lush richness of berries and fruit that naturally burst from the Merlot grape. Soft, supple and easy drinking - a true treat.
Green Apple Riesling
The flavour sensation of biting into a crisp, crunchy green apple, with a pleasant tartness followed by a delicious juicy finish. Natural apple flavours blend perfectly with the lively apple notes that are one of Riesling?s delightful trademarks. Clean, cool and crisp - a wonderful balance of apple flavour with the slight acidity and firm character of the Riesling grape.
Wildberry Shiraz
Ripe, intense, concentrated berry fruit flavours account for the meteoric popularity of Shiraz, an irresistible red grape variety and a natural to get its own Island Mist berry pairing. Did we say berry? We meant berries! We've matched up a special blend of wild field berries blended seamlessly together with delicious, juicy Shiraz. Taste blueberries, strawberries and blackberries, with an exquisite balance of refreshing fruit and acidity that will have you at the bottom of your glass before you know it.
Strawberry White Merlot
Bright and refreshing, this vibrant wine beverage offers the aromas and flavours of fresh strawberries. The medium-pink White Merlot variety lays the groundwork with its exuberant strawberry notes, tangy acidity, and crisp, delicate finish. The natural strawberry flavour weaves in a pleasant sweetness for an immediate and delicious sensation. Fresh and lively, Strawberry White Merlot is a natural fruit-and-wine combination that was simply meant to be.
Blackberry Cabernet
Like picking ripe, dark, succulent blackberries straight off the vine. The natural combination of slight tart acidity with the pleasant sweetness that makes blackberries so appealing is perfect with the robust and lively Cabernet backing. Cabernet?s own balance of berry fruit, natural acidity, plump sweetness and just that touch of zingy edge makes this a uniquely interesting, drinkable refresher.
Exotic Fruits White Zinfandel
A fantastic pairing of the natural berry and plum flavours of White Zinfandel with a host of luscious fruits including blackberry, strawberry, passionfruit and blackcurrant. This clever combination unleashes a full fruit intensity with a wonderfully balanced, slightly tangy finish.
Peach Apricot Chardonnay
Delicious peach and apricot flavours are blended with the world's most popular white wine variety for a thirst-quenching delight. Chardonnay quietly contributes a subtle dryness and perfectly balanced acidity, with hints of its own citrus and fruit flavours. The result is irresistibly refreshing and perfect for any occasion.
Cranberry Malbec
Exquisitely tart and refreshing, cranberries are the perfect foil for the rich power of Malbec's deep fruitiness. Combining the mouthwatering juiciness of North American cranberry with the plum, blackcurrant and sweet cherry of Argentinean Malbec makes a Mist that's both luscious and lush, and perfectly balanced for sweetness.
Raspberry Peach Sangria
Sweet ripe raspberries mix with juicy peach undertones for the perfect summer sangria: fruity, refreshing and and easy drinking.
Before True Wine Yeast Was Readily Available to Wine Makers, This is the Yeast Most Commonly Used - Bread Yeast.

Its Flavor Profile and Alcohol Tolerance is Not as Good as True Wine Yeast, But it Did A Good Job On Turning Fruits and Grapes into Wine.




Vintage Red Star Metal Can. Circa; Early to middle 1900's.






Wine Yeast
Wine Yeast




Packaged in a foil packet. Enough for up to 6 gallons batches of wine.

Red Star Wine Yeast

Lalvin Wine Yeast

Montrachet

All purpose. For producing full bodied red & white wines.

K1V-1116 (12-14% alcohol tolerance)

All purpose. For producing wines from grapes and fresh fruit.

Premier Blanc

For producing white wines, some red wines, fruit juices & to restart stuck fermentations. Not commonly used for sparkling wines.

RC-212 (12-14% alcohol tolerance)

For producing red wines of smooth character & rounded structure.

Cote Des Blanc (Epernay2)

For producing red, white, sparkling & non-grape fruit wines. Slow fermenting.





71B-1122 (14% alcohol tolerance)

For producing wines with a fruity aroma. Ideal for concentrates.

Premier Cuvee' (Prise De Mousse)

For producing red wines, white wines and champagne & to restart stuck fermentations.

ICV-D-47 (15% alcohol tolerance)

For producing superior quality white wines. Ideal for dry & fruity white wines.
Also ideal for honey wines.

Premier Rouge

Encourages development of varietal fruit flavors, balanced by complex aromas when using grapes from the Cabernet family. Good for all grapes.

EC-1118 (18% alcohol tolerance)

For producing all white wines, sparkling wines, ciders & to restart stuck fermentations.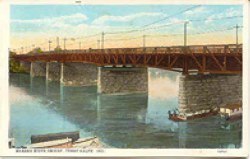 Vintage Postcard of Bridge Across Wabash River Between West Terre Haute, Indiana
and Terre Haute, Indiana. This is the Second Bridge Built at the Same Location and
I Have Driven Across it Hundreds of Times.The First Bridge Was Wooden. This One Was Steel.
It Became Unsafe Due to Age and the Elements. It Was Demolished and a New Cement Bridge Was Built in The Same Area.