We do not ship. This website is for the customers who shop in our brick and mortar store in Terre Haute, IN.
We are constantly adding new products and have many additional unique items that are not listed on this website.
If you have never visited our shop or haven't visited in a while, come in and browse, you will find it's worth the trip.
Winexpert Wine Kits, Wine Yeast, Cleansers & Additives
"State of the Art" Wine Kits

Using "state of the art" aseptic, nitrogen purged packaging methods, premium wine concentrates are balanced and blended with invert sugar; therefore, no acid titration is required.
All necessary ingredients are supplied. In our opinion, this is the only way to make consistent, top quality grape wines at home.
Winexpert Vintners Reserve Wine Kits



Easy to make and easy to enjoy, Vintners Reserve is the industry's first 28-day winemaking kit, contains 100% pure varietal grape juice and concentrate. This 10 litre wine kit continues to set the standard in its category by yielding wines of excellent quality, flavour and aroma. Vintners Reserve offers a wide range of varieties that allows the winemaker to experience numerous styles and tastes.

All of the acids, ph, sugars, and tannin levels are perfectly balanced, yielding wines of great character, with superior color, flavor and aroma.
Winexpert Vintners Reserve World Vineyard Collection
Wines from Australia, California, South America and Europe are represented in the Vintners Reserve World Vineyard Collection. These wines are perfect if you enjoy versatile wines which don't require extended aging but still offer distinct flavours from some of the great wine regions in the world.
These 10 liter wine kits produce high quality wines that you can enjoy within one month after bottling.
Winexpert Island Mist Fruit Flavored Wine Kit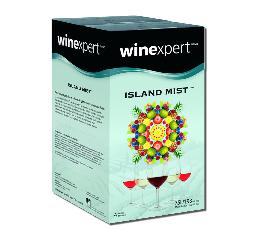 Island Mist
is a unique and appealing new beverage from
Winexpert
that will change the way you drink wine! We've added a splash of natural fruit flavours to selected premium varietal wines for a light alcohol beverage that is a delightful alternative to table wines.
Island Mistcombines the crisp freshness of varietal table wines with the luscious flavours of natural fruit for a thirst-quenching, delicious drink that's unlike anything else you've ever tasted!
Ready to bottle in 4 weeks
These 7.5 liter wine kits makes 6 gallons which equals 30 - 750 ml bottles.
Before True Wine Yeast Was Readily Available to Wine Makers, This is the Yeast Most Commonly Used - Bread Yeast.

Its Flavor Profile and Alcohol Tolerance is Not as Good as True Wine Yeast, But it Did A Good Job On Turning Fruits and Grapes into Wine.




Vintage Red Star Metal Can. Circa; Early to middle 1900's.






Wine Yeast
Wine Yeast




Packaged in a foil packet. Enough for up to 6 gallons batches of wine.

Red Star Wine Yeast

Lalvin Wine Yeast

Montrachet

All purpose. For producing full bodied red & white wines.

K1V-1116 (12-14% alcohol tolerance)

All purpose. For producing wines from grapes and fresh fruit.

Premier Blanc

For producing white wines, some red wines, fruit juices & to restart stuck fermentations. Not commonly used for sparkling wines.

RC-212 (12-14% alcohol tolerance)

For producing red wines of smooth character & rounded structure.

Cote Des Blanc (Epernay2)

For producing red, white, sparkling & non-grape fruit wines. Slow fermenting.





71B-1122 (14% alcohol tolerance)

For producing wines with a fruity aroma. Ideal for concentrates.

Premier Cuvee' (Prise De Mousse)

For producing red wines, white wines and champagne & to restart stuck fermentations.

ICV-D-47 (15% alcohol tolerance)

For producing superior quality white wines. Ideal for dry & fruity white wines.
Also ideal for honey wines.

Premier Rouge

Encourages development of varietal fruit flavors, balanced by complex aromas when using grapes from the Cabernet family. Good for all grapes.

EC-1118 (18% alcohol tolerance)

For producing all white wines, sparkling wines, ciders & to restart stuck fermentations.
Wine Making Additives / Cleansers and Sanitizers
All of the items on this page are our normal stock items. Other sizes of some of these products are also in stock.
Acid Blend

A blend of tartaric, malic and citric acids.

American Oak Chips

Light toast.

Anti-Oxidant / Ascorbic Acid

Used at bottling time to prevent oxidation.

Bentonite

Used for clearing hazes from wine.

Calcium Carbonate

Used in beer and wine making to reduce acidity.

Citric Acid

Diammonium Phosphate

Used to increase yeast production and growth. Works well in a yeast starter to increase activity and yeast reproduction. Diammonium Phosphate also works well with white wines and meads, which are typically lacking in natural nutrients

Dualfine Clearing Aid

Use as a dual stage clearing aid for beer, wine and spirits. Contains Chitosan and Kieselsol

French Oak Chips

Medium toast, roasted between

350 and 375 degrees F.

Gelatin Finings

Used in beer and wine making for clearing.

Glycerine

Finishing formula, to smooth out and mellow wine and liqueurs.

Gypsum

Gypsum (Calcium Sulphate) is used as a water treatment;
especially useful for soft water.

Malic Acid

Pectic Enzyme

Increases juice yield and prevents pectin haze.

Potassium Bicarbonate

Used to reduce acid.

Potassium Sorbate

Stabilizer - Used to prevent re-fermentation when sweeting wine.

Potassium Campden

Contains potassium metabisulphite and is a convenient way to accurately sulphite wine

Potassium Metabisulfite

Used as a sanitizer, antioxident and bactericide.

Sodium Campden Tablets

Contains sodium metabisulfite and is a convenient way to accurately sulphite wine. Releases sulphur dioxide, which acts as a sterilant and antioxidant

Sodium Metabisulfite

Used as a sanitizer, antioxidant and bactericide.

Sparkolloid

Wine Finings for clearing wines.

Tartaric Acid

Wine Conditioner

Sweetener with stabilizer.

Wine Tannin

Balances low tannin wines.

Yeast Nutrient

Yeast nutrient increases the rate of yeast metabolism, which results in faster fermentation and greater yeast viability.
Yeast nutrient can also be helpful when brewing high gravity beers.

Yeast Energizer

Stimulates fermentation - a nutrient booster.
Beer and Wine Making Cleansers and Sanitizers
Easy Clean

A no-rinse oxygen based compound for cleaning beer and winemaking equipment. Great for removing labels.

IO-Star

Low foaming iodophor sanitizer. Easy to use in a measurable squeeze bottle. Economical dilution ration, self-indicating, controls water hardness, effective against most mold and yeast.

One Step

Oxygen based with a favorable cleaning power. Environmentally friendly and non-toxic. No rinsing required.

PBW

The only patented non-caustic cleaner designed to clean stainless steel and safe for use on glass, copper, plastic, brass and ceramic equipment. Environmentally friendly and safe to handle.

Star San

A foaming acid anionic sanitizer that penetrates hard-to-see places. No rinse. Does not stain and will not impart odors or off flavors.

Straight A

Cleans with oxygen and does not contain any chlorine, bisulphites, organic compounds or phosphates. Superior wetting power helps water penetrate and lift soils off surfaces. Removes labels with minimum soak time. Higher alkalinity dissolves and neutralizes acidic soils. Environmentally sound and biodegradable

Vintage Postcard of Bridge Across Wabash River Between West Terre Haute, Indiana

and Terre Haute, Indiana. This is the Second Bridge Built at the Same Location and

I Have Driven Across it Hundreds of Times.The First Bridge Was Wooden. This One Was Steel.

It Became Unsafe Due to Age and the Elements. It Was Demolished and a New Cement Bridge Was Built in The Same Area.