HERBS & HEIRLOOMS, INC.
1709 So. 4th St. Terre Haute, IN 47802
Serving The Wabash Valley From
Terre Haute, Indiana Since 1994
Aromatherapy Base Oils, Carrier Oils, Speciality Oils, Beeswax and Shea Butter
These are the oils in stock at Herbs and Heirlooms.

They are available in different sizes.
Aloe Vera Gel

Apricot Kernel Oil

Arnica Oil

Avocado Oil

Black Currant Seed Oil

Borage Seed Oil

Calendula Oil

Castor Oil

Cocoa Butter

Coconut Oil

Fractionated Coconut Oil.

Comfrey Oil

Emu Oil

Evening Primrose Oil

Glycerine

Grapeseed Oil

Hemp Seed Oil

Jojoba Oil

Lanolin

Lecithin

Neem Seed Oil

Olive Oil Extra Virgin

Palm Oil

Rose Hip Seed Oil

St. John's Wort Oil

Sesame Seed Oil

Sweet Almond Oil

Vitamin E Oil

Wheat Germ Oil
Beeswax and Shea Butter
Perfect for salves, lip balms, lotions, soap, candles.
Beeswax Beads / Pastilles

Beeswax Chunks or By The Pound
Available unrefined or refined.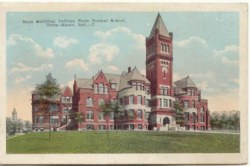 Vintage Postcard of Main Building - Indiana Sate Normal School - Terre Haute, Indiana - ca. 1922