Norse Pewter Jewelry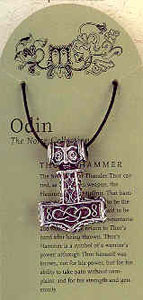 Pendants come attached to a legend card
with a 33" long cord.

These Fine Pewter Pendants are Lead Free
and are Made in the USA.

Unless marked otherwise, $9.95 each

Valknut

This Viking symbol is called "The Heart of Hrungnir". Hrungir is a legendary giant whose story is told in th Eddas; the old Norse Epic. It is also called the Valknut, or "knot of the slain". L: 1 3/8" W: 1 1/8"


Viking Shield

This pendant is patterned after a shield found in an archaeological excavation in Norway. It is believed to bring protection to the wearer. L: 1 3/4" W: 1 15/16"

Norse Broadsword

This is a modern presentation of an ancient and respected weapon. The warrior who chose to use it had to cultivate agility in order to fight with it as it was a heavy weapon. L: 2 1/4" W: 1"

Viking Wolf


This Viking pendant shows a wolf in the Norse style, with its body twisted and stretched almost beyond recognition. It was more than likely carried by a warrior who saw a spirit friend in the wolf. This is a reproduction of a piece that is almost 1,000 years old. 1 5/8" diameter.

Viking Lion


The Vikings knew about lions, although they were not native to the lands the Vikings lived in. They respected the animal whose kingship over other beasts were told of in stories from faraway lands. The Lion was a symbol of invincibility, and so the Vikings, like all other warrior nations, honored its spirit. L: 1 1/4" W: 1 1/16"


Viking Wolf Head


The Vikings saw a counterpart of their own way of living in the ways of their brother-nation, the Wolves. This animal is as social as people, and just as protective of their family. L: 2" W: 3/4"


Gotland Dragon


To the Vikings, the dragon was a symbol of power and fulfillment. The dragon evokes the power of the sky, where they flew, the mountains where they lived, and the power of fire that appeared in their breath. 1 3/8" diameter.

Viking Ship


This is a museum quality reproduction of a Norse brooch from the 14th Century. It shows the classical Viking longboat. The original was found in an archaeological excavation in Norway. 1 7/16" height X 1 15/16" width.

More Norse Jewelry


Pendants come with a 33 inch long cord.
Viking Warrior Helmet - Lead Free Pewter


The Viking warrior fought for the glory of his Gods and to gain favor of Odin, lord of Valhalla, where the warrior hoped to go after his death. 1 1/4" height X 1 1/2" width


$12.95



Brass Norse Jewelry


Pendants come with a 33 inch long cord.

Viking Ship - Bronze Pendant


The Viking Ship was the most powerful and advanced vessel in Viking Age Europe. Because of their importance, ships became a mainstay of the Viking pagan religion and evolved into symbols of power and prowess.1 5/16" diameter


$12.95




Norse Broadsword - Bronze Pendant


This is a modern presentation of an ancient and respected weapon. The warrior who chose to use it had to cultivate agility in order to fight with it as it was a heavy weapon. L: 2 1/4" W: 1"1 1/4"


$12.95




The Helm of Awe


The Helm of Awe is a type of rune stave - a magical spell of protection used by early Vikings. It is one of the most mysterious and powerful symbols in Norse mythology. 1 1/4" diameter


$14.95




Thor's Hammer with Pentacle and Accent Cabochon


The Norse God of Thunder Thor carried as his chosen weapon, the hammer called Mjollnir. That hammer's blows were believed to be the cause of lightning. It was said to be powerful enough to crack mountains and would always return to Thor's hand after being thrown. Thor's hammer is a symbol of a warrior's power; although Thor himself was known, not for his power, but for his ability to take pain without complaint, and for his strength and generosity. 1 1/4" height X 1" width


$14.95




Thor's Hammer - Antique Brass Finish


The Norse God of Thunder Thor carried as his chosen weapon, the hammer called Mjollnir. That hammer's blows were believed to be the cause of lightning. It was said to be powerful enough to crack mountains and would always return to Thor's hand after being thrown. Thor's hammer is a symbol of a warrior's power; although Thor himself was known, not for his power, but for his ability to take pain without complaint, and for his strength and generosity. 1 7/16" height X 1" width


$10.95