Ritual oils that have stood the test of time. Many of our customers simply demand these old formulations.
Oils may provide many different results in various areas in your life. People have used them in ritual magic, anointing, aromatherapy and spell-crafting. . . 1/2 oz. (4 dram) $3.95 each.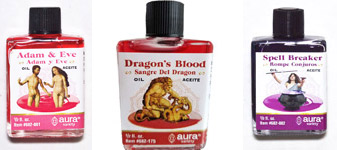 Adam & Eve Oil
Use this oil to heighten the love between yourself and your lover. Conversely, you can use it to bring your lover back to you if you have drifted apart or fought.

Out-of-Stock
Against Harm Oil
For use in all manners of protection, jinx removing, curse & hex breaking rituals and spells.

7 X 7 Against All Oil
Used to protect yourself and loved ones from any harm, spells, envy, bad luck, negativity, etc.

Out-of-Stock
Attraction Oil
Use attraction oil to attract anyone or anything that you desire.

Out-of-Stock
Banishing Oil
Banishing oil has many uses and is a powerful blend to aid in stopping bad habits, and helping to remove negative energy in people and situations.

Better Business Oil
Use to help attract customers, discourage and keep away bad customers, and to enhance profits and reputation of your business.

Black Cat Oil
This oil captures the qualities of the black cat, making it a potent aid in your spells and rituals where you are seeking good fortune. Use it alone or in your spells and rituals to help overcome financial difficulties and generally bring happiness and prosperity into your life.

Commanding Oil
To aid in all matters of the personal power. Especially its control over others.

Controlling Oil
To control a wayward lover.

Dragon's Blood Oil
This dragons blood oil with fragrance is a welcome addition for calling dragon energy, protection, courage. It can even be worn as a personal cologne scent

Elegua Oil
Can be used to dress candles or used for any kind of ritual.

Healing Oil
When you are feeling tired and weak place a few drops of Healing Oil on your forehead and burn a blue candle, for a speedy recovery.

Jinx Removing Oil
Jinx Removing oil may be used to aid in the removal of a jinx.

John the Conqueror Oil
John the Conqueror oil may be used to aid in power and prosperity by invoking his spirit. Also aids in all endeavors, promotes mental abilities

Law Stay Away Oil
Law Stay Away oil may be used to keep the law far away from you.

Lodestone Oil
Empowered to aid you in winning the one you love, this powerful oil is intended to be used in rituals or by itself in attracting the one you desire, and holding them to you like a magnet on iron.

Love Me Oil
Love Me oil may be used to help attract a difficult love target.

Magnet Oil
Empowered to aid you in winning the one you love, this powerful oil is intended to be used in rituals or by itself in attracting the one you desire, and holding them to you like a magnet on iron.

Money Drawing Oil
To aid in all matters of gaining and drawing money, and financial well being.

Ogun Oil
Ogun or Oggun often associated with raw energy, success endeavors through hard work or focus. Use the oil for any purpose but excellent to bless your work tools and ritual tools, candles: esp. green and black.

Oshun Oil
Oshun is the Yoruba Goddess of sensuality and prosperity. Use this oil to draw in the energy of Oshun the Yoruban goddess.

Peaceful Home Oil
Help ensure that the energies that surround your house or apartment are those that help bring harmony and serenity. May be used to bring peace back to your home and calm family members.

Prosperity Oil
Prosperity Oil attracts and draws luck and success in business deals and in gambling. Anoint your lucky charms with it, wear oil as a perfume when discussing financial matters.

Reversible Oil
This potent oil is intended to be used in reversing magick that has been worked upon you, or somebody else, and returning it back to the one who created it. This is often a preferred way to remove hexes curses and other such negative energies.

Road Opener Oil
If you are looking for new opportunities and experiences, this is the oil for you. Use it in your rituals or standing alone to open up new paths to new possibilities and to open new doors for you and your path to prosperity.

Out-of-Stock
Send Back Evil Oil
A powerful oil against curses and hexes and evil spirits, this oil is intended to be used in your ritual crafts to help you turn the evil of your enemies back to the source.

Spell Breaker Oil
If you feel someone has you jinxed or hexed, use Spell Breaker Oil to remove it.

Stop Rumors Oil
If you are being tormented by untrue rumors and the gossip of others, this oil is intended to give you a hand. Use it in your ritual practices to help you put an end to these troublesome rumors and help you keep your good name.

Tame Oil
This magical oil can help you gain self control and confidence. Use it for calming down belligerent individuals and making them more agreeable to your desires.

Unblocker Oil
This potent oil is designed to remove the obstacles of in your life, particularly if your attempts at love are continually being thwarted. Use it in ritual and spell to help find the key to the heart of the one you desire or otherwise open doors and paths in your life to happiness.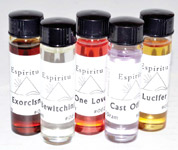 Espiritu Oils
1/4 oz. 2 dram $3.95 each
Attraction Oil
Attraction oil to help give you the edge when you are looking for a new partner.

Out-of-Stock
Binding Oil
Binding oil can be used in spells and can be used to affect people without them knowing.

Out-of-Stock
Black Cat Oil
Black Cat oil can be used as an all purpose oil, especially in protection and defense.

Heliotrope Oil
Used in spells and rituals where one is wishing to enhance and empower psychic or mental abilities, whether for the sake of divination or simply for a greater strength in will and mind. Similarly, it can also be a great aid in spells and rituals involving prosperity, being a potent aid in spells that attract wealth and money.

Out-of-Stock
Lotus Oil
Lotus oil may be used as an aid in meditation and spiritual work. Is great when working with goddess energy.

Mandrake Oil
Mandrake may be used for both empowering a curse or to help turn away negative energy and curses.

Road Opener Oil
Road Opener oil may be used to help manifest new opportunities into your life.

Rue Oil
Rue oil maybe used to aid in removal of a jinx or curse in your home or environment. Inviting in a peaceful vibration.

Solomon Seal Oil
Solomon Seal may be used in practices for invoking King Solomon and may aid in the making of difficult decisions and increase wisdom.

Violet Oil
Violet oil may be used in love and has been known to excite people sexually from its beautiful scent combined with your intentions.

Voodoo Oil
May be used personally with intention or in your spiritual or magical practice.

Archangel Oil
1/8 oz. 1 dram $3.95 each
Archangel Ariel Oil
Used to call upon the Archangel Ariel, who is often viewed as the guardian and representative of the earth, this anointing oils makes a powerful addition to your ritual magic.

Archangel Gabriel Oil
Frequently revered as the messenger of God, Gabriel is the archangel looked to for divine guidance. This sacred oil helps you seek this guidance and wisdom, and can help empower your prayers and rituals.

Archangel Michael Oil
Intended to be used to summon or contact the archangel Michael, this anointing oil is certain to be of great use within your ritual crafts.

Archangel Uriel Oil
Of great use in calling upon the archangel Uriel, this oil seeks to empower your prayers and rituals to help find motivation and attain your goals.

Aura Accord Oil
1/4 oz. 2 dram $3.95 each
Abra Melin Oil
This ritul oil is used to aid you in bending others to your will. Useful on all individuals, it is particularly handy when working with spirits and other such spiritual beings, where it can aid you within your evocation and summoning.

Astral Travel Oil
Used to help you slip into the trance state you need to travel with your mind and spirit, this ritual oil is a powerful aid when seeking Astral Travel.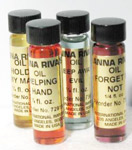 Anna Riva Oil
1/4 oz. 2 dram $3.95 each
High John Oil
Used to help aid you in strengthening your mental and psychic abilities and assist in all of your magical efforts. Use it to anoint seals and charms and candles to add to the power of the spells that you are casting.

Irresistible Oil
Use irresistible oil in your love spells to help ensure their success, and to beguile the one that you desire, ensuring that they cannot help but to submit to your love.

Out-of-Stock
Lucky Hand Oil
Used to bring luck, love, power, success, and protection.

Lucky Lodestone Oil
Recognizing the magical properties of a lodestone, Lucky Lodestone oil is a potent magical blend intended to help you change bad luck to good, and attract good fortune.

St. Michael Oil
Calling upon Saint Michael the Archangel, this potent oil can be applied to a wide variety of magic and spells. It is said to be of use in bringing great power to your magic when it is used to empower your spells, and can otherwise be used in conquering the obstacles before you or bringing protection to yourself and those you care about.

Peaceful Home Oil
Used to insure a serene and tranquil domestic life.